Overview
Healthcare Marketing is the process of strategic outreach and communications designed to attract healthcare consumers while guiding them through their healthcare journey and keeping them engaged with the health system.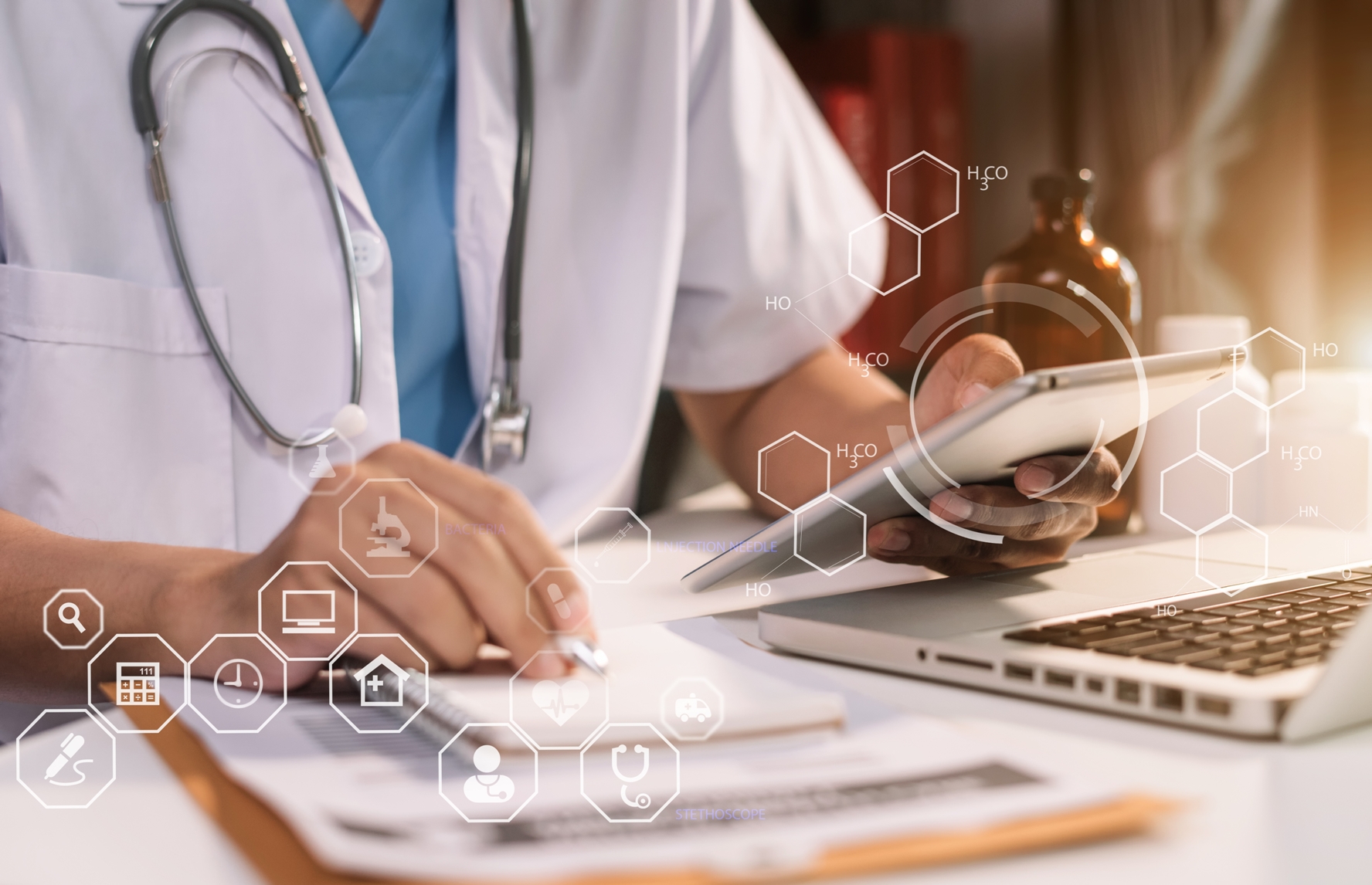 In the past, healthcare marketing has focused on traditional tactics such as print, TV, radio, and direct mail but in today's era, healthcare consumer is much different than the healthcare consumer of the past. Patients are healthier, live longer, and rely on healthcare organizations less. Today's patients are also able to do extensive research online, which means they are more particular about the services they receive. They also have access to physician reviews, ratings, and online forums to interact with other patients who may have similar conditions. Which makes it very important and necessary for a clinic or hospital to gain their reach online. And in order to do so, Healthcare digital marketing is the one thing that comes into action.
Healthcare Digital Marketing is the process of promoting the practice of the healthcare industry through the use of marketing research tools to educate, motivate, and inform consumers on health messages digitally. Which in return increases the requirements of healthcare digital marketing agencies, who are professionals of handling an entity's presence over the internet.
Nowadays, people have been more health-conscious than ever before. Meaning, that even before visiting a doctor, one always tries to find answers associated with their symptoms online. The growing awareness has affected the healthcare industry from its core. Thus, this made online marketing for hospitals a far more important aspect. And the reasons behind this awareness is made possible because of:
Mobile accessibility: In today's time, nearly two billion people own a smartphone worldwide and clinic marketing agencies make a really good deal out of it. With the growing number of mobile users, one can never ignore the rise of healthcare digital marketing. Physicians, clinicians, dentists, and healthcare officials often use mobiles for various purposes to keep themselves abreast of the trends in the healthcare industry. Patients too, seek healthcare and treatment options online which puts prominence on healthcare digital marketing.
Newer digital channels: With the growing trends in the digital space, every healthcare marketer's focus should be on digital ads, mobile apps, and social media. And if we look in the past, we can see how digital marketing has picked up its pace in healthcare online marketing. It's also crucial for healthcare digital marketers to be equally involved and show acceptance of trends.
Demand for healthcare applications: Today, a consumer seeks a stress-free and trustworthy user experience. With the progression of technology, the demand for innovative healthcare applications has amplified. Thus, the implementation of a healthcare marketing strategy on a digital platform will elevate the digital marketing for a hospital or a clinic.
What are the benefits of Healthcare Digital Marketing?
As we have discussed earlier,  people have been more health-conscious than ever. They tend to go online to know more about their health and the diseases, they download weight loss apps, track heartbeat on fancy smartphones and even chat with a doctor to determine the cause of their symptoms. We are seeing a visible transformation in healthcare online marketing, creating both opportunities and challenges. Healthcare marketing in India has taken up the pace in online marketing for hospitals in recent times. But if we talk about the opportunities that Healthcare Digital Marketing has bought to doctors and clinic, includes:
Well Informed Customers: People are active and smart enough to do their research before visiting a doctor. This leads us to believe that patients are looking for symptoms, medicines and treatment options before visiting a doctor.
Digital Media has taken over to traditional channels: Digital marketing has imprinted every sector, and the healthcare industry is not left behind. Since consumer marketing is shifting to digital ads, social media, and mobile apps; the drop in traditional modes of marketing is not surprising. Hence, digital marketing for clinics not only benefits in more reach but also increases patient engagement.
A Great of search engine marketing: Nearly 77% of the patients use search engines before booking appointments. Search drives almost 3 times as many visitors to hospital sites as compared to the number of visitors from other affiliate/referral sites. 44% of patients schedule an appointment after researching about the hospital on a mobile device.
The boom of the Healthcare Industry – Healthcare is one of the largest growing industries in the entire world. As people go online for solutions, healthcare organizations can benefit immensely from digital marketing.
What Strategies should be followed in Healthcare Digital Marketing?
As we've already seen, healthcare Digital marketing is in the midst of a revolution and these digital tactics are critical to engaging patients and driving ongoing growth in today's competitive healthcare landscape:
Search Engine Optimization (SEO) – Search engines drive three times as many visitors to hospital websites than other sources. And it's a proven fact that 44% of patients who research hospitals on a mobile device end up scheduling an appointment with a doctor. And since mobile searches make up more than 50% of web searches overall, it's essential that your site is also designed for optimizing web pages for mobile search and browsing, prioritizing a dynamic design, and maintaining fast load times.
Producing Video Content: Using video on landing pages can increase conversions by up to 80%. Since healthcare is an innately personal, narrative-rich industry, video can have incredibly powerful applications. video is an ideal medium for providing information about complex health issues or diseases in a simple, easy-to-understand visual format. Video creation is well worth the investment, especially due to the degree of saturation in written medical content.
Healthcare Social Media Marketing – A healthy social media presence also helps attract patients. A recent study found that 57% of consumers' decisions to receive treatment at a healthcare facility are strongly influenced by that provider's social media connections, showing that patients trust healthcare organizations that engage online. It is an excellent tool for re-engaging existing and potential patients who may have already visited your website or are searching for the type of services your organization offers.
Creating highly personalized campaigns – Healthcare marketing should be highly personalized. the reasons for which any given person might be seeking medical care can range from a desire to achieve general wellness to a life-threatening emergency or disease. Understanding the targeted audience is the first step to producing advertising and content that will resonate.
Prioritizing analytics: One of the great things about Healthcare digital marketing is the ability to constantly track performance and make real-time adjustments if a campaign isn't going as planned. Smart usage of Custom Dimensions allows marketers to deploy the right content on the right channels to the consumers most likely to be receptive – even if personal demographic details are left out of the picture.
Updating Email Strategy: Email marketing is still alive and is still a relatively low-cost, effective, and immediate form of communication with plenty of opportunity for narrow-focus personalization. When executed correctly, the ROI of an email marketing campaign can be significant and profitable.